CM 0102 training tips: Here you'll find the best tips for helping your team!!!
After taking a leap to see what's good on the Champman site, there's a lot of good stuff there, I found this post and decided to bring it here.
CM 0102 training tips! A little guide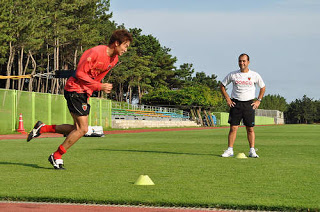 Do you know which attribute you suffer with each type of training?
See the list below:
Fitness: Acceleration, agility, thrust, endurance, strength and balance.
Tactics: Decisions, marking, no ball, positioning and team work.
Shooting: Finishing, shots from afar.
Skill: Feeling, heading, passing, technique, crossing, tackling.
Goalkeeping: Game hands.
The other attributes are not changed by training.
And our dear Championship Manager 01/02 takes into account the team structure for player development.
That is, the better the working conditions, the more your players will improve.
It is also very important to always have your complete fitness chart.
And according to research, the sum of the attributes training players field and goalkeeper training must be equal to or greater than 50.
If your team has 5 fitness coaches and all have 10 training players and the same for goalkeepers, according to research you will get the best from your players.
And if your club has excellent working conditions, they will improve faster.
Well, the tip here is to always have your full coaching chart. Do not let it be empty!
One more thing: Always try to have the best coaches. Don't forget it!
Do you know how to find out the best staff?
Now that you know what each workout does and you've made sure you have the best coaches, we can set up individual workouts for each position.
Riding Individual Workouts – CM0102
Goalkeeper

Fitness: Medium (Agility, Thrust, Reflexes)
Tactics: Medium (Positioning)
Skills: Medium (Pass)
Shooting: None
Goalkeeping: Intensive (Hands Playing)
Defenders

Fitness: Medium
Tactics: Intensive
Skills and Shooting: None
Goalkeeping: Light (Get better positioning)
Midfielders

Tactics, Skills and Shooting: Intensive
Goalkeeping: None.
Attackers

Fitness, Shooting and Skill: Intensive
Tactics: Light
Goalkeeping: None.
Above is an idea of ​​training based on what each one does. The best training schedule you'll see here.
Developing the Reserve Team
Well, although practice helps, what really makes your players better are the games. So always make your players play.
I sometimes take turns on the first team. Maybe you start to practice always making friendly matches for these guys to play.
It also helps with their morale!
CM 0102 training tips: Non-training also help!
A good idea is to put all your players on No Training when a season ends, then put them back on your routine 1-2 weeks before the new season kicks off
This tip will help if you are having a problem with your players' injuries.
Do you know how to avoid injury to your players?
---
That's it for today guys. This post complements my quick guide on tactics.
Coming soon a post on how to manage team finances!
If the text contains errors, please leave a comment.