This posts presents Championship Manager 01/02 Goal Machines!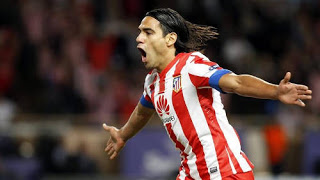 Radamel Falcão Garcia, this real-life ace can strengthen his team in the cm0102 for free!
If you just like me play championship manager with the original base, look for this guy. He will be an excellent boost for his team.
To get an idea, whenever I hire him in Matonense in a short time the guy becomes a shale of the crowd.
Oh boy! And the board also to the point of classifying as indispensable!
Therefore, when you start a new save, go to search player and enter the name of the star. If you are in the Brazilian league that begins at the end of December 2001, Falcão will be about 15 years old.
And at that age he will hardly accept a contract. Wait for him to turn 16 in mid-February.
If you started a league that starts in mid-2001, you'll have to wait for next season to hire it.
Remember, when starting a new save, Falcão Garcia is only 15 years old and without a contract!
So I suggest that when you find the player, you already put it on your preferred list. And be sure to follow up, because he's out of contract.
You don't want to lose this ace by not monitoring, do you?
Championship Manager Goal Machines and Good and Cheap Players published so far
With championship manager 01/02 goal machines above, we arrived in the third indication of players since in the previous post I indicated two.
Check it out below;
Radamel Falcão Garcia – PL
Marajó – Attacking midfielder / Advanced
Leandro Bonfim – Attacking Midfielder
Remembering that of the three above, only Marajó has an active contract. But you can buy it for less.
That's it for today, folks! Soon I bring a post with a challenge similar to what I saw on the Facebook page these days.
Wait!
Good game!